Events & Media Page
Recent events in southwest Florida:

November 3, 9:30 - 5:00 D. K. Christi signing and selling books at the Spirit Row fair at Unity of Bonita Springs. $5 entry donation to the fair supports children's needs in the local community.  28285 Imperial Parkway
Bonita Springs, FL 34135 (239) 947-3100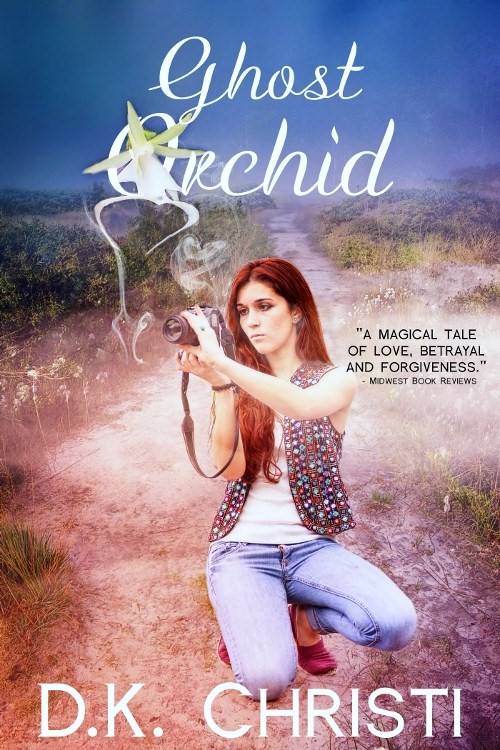 Parallel love stories twist and turn around family secrets. Mel has a taste of renewed passion before tragedy strikes, and she's unable to reveal her hidden secrets to Neev, her estranged child. Neev, raised by a loving foster family in Germany and educated at Oxford, finds modeling a bore but joy in the other side of the camera chasing the endangered species of the tropical jungles. Her mentor, Roger Andrews, shapes her talent and her love life though she fancies a young tour guide in Africa. An amateur photographer, Jack, is in the shadows as he discovers the ghost orchid that brings all the pieces together in the mystical discovery of eternal love.
WHO IS D.K. CHRISTI?

D. K. Christi, M.Ed. CWDP has over twenty years grant-writing and public relations experience, five years as an editor for an international CPA firm, five years free-lance magazine and newspaper writing, three published novels, BAMBOO RING, ARIRANG and GHOST ORCHID and stories published in seven anthologies.

"Themes of friendship surviving tragedy, love conquering adversity & the triumph of the human spirit over the hardships of life serve to uplift and inspire...through her stories perhaps discover something new about yourself. " -- Amazon.com

Christi interviews celebrities and notables from Jack Hanna to Rob Reiner, Whoopie Goldberg, Newt Gingrich, Jeb Bush, Marlo Thomas, Chris Gardner and more. She lived and worked in Europe, Asia and the Caribbean and spent three years sailing the Caribbean Islands from Ft. Lauderdale to Venezuela.

A polished platform presenter on multiple writing and publication topics, she also has an entertaining and informative approach to Sex, Myth and Magic - The Ghost Orchid, popular at book club, environmental and orchid events.

"The beauty of the Everglades shines through on every page, the ghost orchid the heart and soul of the story." -- National Public Radio

D. K. Christi has been executive director, president, CEO and founding board member to successful philanthropic and corporate entities such as the Community Foundation of Collier County, Florida begun in 1985 by a group of community minded citizens including D. K. Christi.

Today the Community Foundation oversees more than 400 funds, manages $64 million in assets, has distributed $64 million in grants and collaborates with local and national non-profits. In FY 2013, over $9 million in grants were distributed to nonprofit organizations and community programs.
Nov 19, 2015
11:00 AM Muskegon, MI Muskegon Community College B & N Bookstore D. K. Christi, former student and Director at MCC reads from Ghost Orchid and signs books in the newly remodeled bookstore

Nov 21, 2015
1:00 PM Muskegon, MI Barnes & Noble, Lake Shore Market Place D. K. Christi meets and greets readers, reads from Ghost Orchid and signs reader copies of Ghost Orchid

Nov 21, 2015
4:00 PM Naples, Florida Barnes & Noble Bamboo Ring featured as one of a dozen select Naples Press Club author books. Highlights beginning a 4:00 p.m. Bamboo Ring editor & friends present

Nov 24, 2015
10:00 AM Grand Rapids, MI Interview with Shelly Irwin, The Morning Show D. K. Christi interviewed by Shelly Irwin at NPR GVSU Morning Show

Nov 27, 2015
1:00 PM Grandville, MI Barnes & Noble Booksellers - River Crossing D. K. Christi meets and greets readers and reads from Ghost Orchid, literary fiction that twists and turns with mystery & romance - Black Friday surprises


Russ and I interviewed author D.K. Christi... Not knowing anything about orchids, Russ and I were astounded at her knowledge of the Ghost Orchid, it's mysticism, history and beliefs. In all a fun conversation and extremely informative. Incidently, "Ghost Orchid" is a great read! - Writers Block on LA Talk Radio October 22, 2015

Happehatchee Center Brown Bag lunch, Estero, FL presents D. K. Christi and "Sex, Myth and Magic - The Ghost Orchid"